L.M.S. 4-6-0 Black 5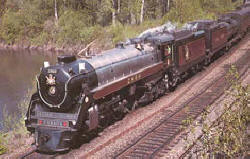 Canadian Pacific 4-6-4 Royal Hudson 2860 - 2850

G.W.R. 14XX Auto Train

Wallingford Railway Station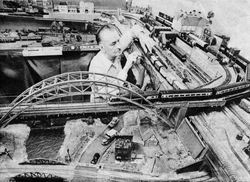 Bill Colnett with his model railway
OUR PROUD ASSOCIATION WITH MODEL GIANT
BASSETT-LOWKE LTD.
I've always been fascinated with model trains, not necessarily with the working aspect of them, but static scale models of railway engines, coaches, and railway buildings. If you visit our "Founders" section of this website, you'll see that model
railway buildings, were the very first models my Father built, when AWB Models were active in the North of England in 1945. This image is the only photo record of an AWB model railway station building, produced by my father's company, at that time.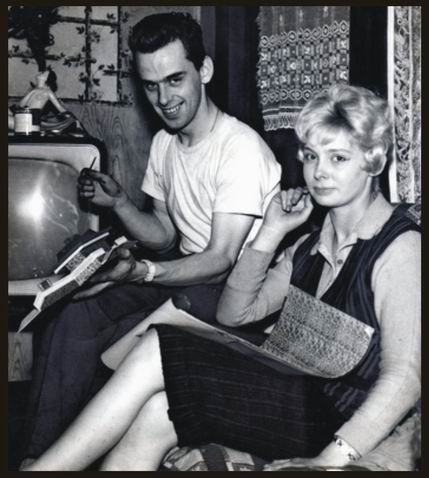 Left, my wife Elza and I working on one of the above stations, for the Bassett-Lowke Ltd. retail store. At that time, I was also working in the Bassett-Lowke Manchester store, primarily on the repair bench, and assisting in retail sales. Later my wife and I moved to London, and I joined the staff of their High Holborn store in London. I continued to sub contract model work from them in my spare time, usually, radio controlled model boats. Picture below
was taken in their Manchester store, at the old fashioned oak cash register. I have so many wonderful memories of the years working in both those stores, and the many true railway modellers and model engineers I got to work with, including my own Father (below left), at one point in time.
In 2003, here in British Columbia Canada, almost "57 years" after my father built his first railway station for Bassett-Lowke Manchester, I got to build my first railway station. It was a 3/8 scale replica of the 1937 G.W.R. Wallingford Branch Line Station, in the South of England. Be sure to visit this "Wallingford Railway Station" shown on the left of this page ... it really was a very special project for me personally, and a lot of work and research went into making sure everything was absolutely authentic to the best of my knowledge. If you're a model railway enthusiast as I am, I'm quite sure you'll enjoy your visit.