1945 - the early years
At the end of World War II Albert William Brinkworth my father and Co-Founder of this company, returned to civilian life. His war years with the National Fire Service, and British Army now at an end, it was time to make new plans for the future. Starting his own family business, which would allow him to stay home with his wife and three children was his plan, and as model building had always been a passion since childhood, the wheels were put into motion, and "AWB Models" was established in 1945 in Manchester,
England. At that time, nobody knew the name "Brinkworth" in connection with models, but just about everybody with an interest in scale models, knew the name "Bassett-Lowke Ltd." A model engineering company with a world wide reputation, second to none, for building only the finest of scale models. Bassett-Lowke Ltd. had been very active during the war years, on government projects, but were now concentrating their efforts again on "Model Railways", a specialty market they had very successfully established, and dominated in the pre-war years. Dad decided, a connection with them was a must, and if he could impress them with his model making skills, then everything else would fall into place for his new venture.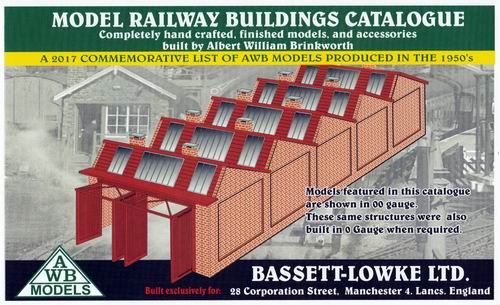 A selection of hand built model railway buildings were constructed on our kitchen table, in Salford, near Manchester, England. Dad did the major construction, and the rest of us all helped with the sanding, painting and finishing of the models. It was very much a family effort, and I remember so well the pride I felt when the projects were finished, and we set about wrapping them in brown paper and string, to deliver them to the Bassett-Lowke retail branch, in Manchester. My father had agreed to build the models at his own expense, and if they liked them, they would consider buying them on a regular basis.
The idea was brilliant, and a connection with this scale model giant was established. The model railway buildings were a tremendous success, and were selling faster than my father could build them. The London branch of Bassett-Lowke Ltd. wanted models too, but we could not keep up with the sales at the Manchester branch. Dad had a thing about non-family members working on the models, which kind of prevented any chances of expanding the business to increase our production.
My brother and I would come home from school, and work almost every evening on the models during the week, and on Saturday mornings, my Brother, Sister and I, would all board the local bus into Manchester, to deliver the finished products, all neatly wrapped in brown paper and string.