RICHMOND REVIEW SUPPLEMENT - NOVEMBER 24 - 1985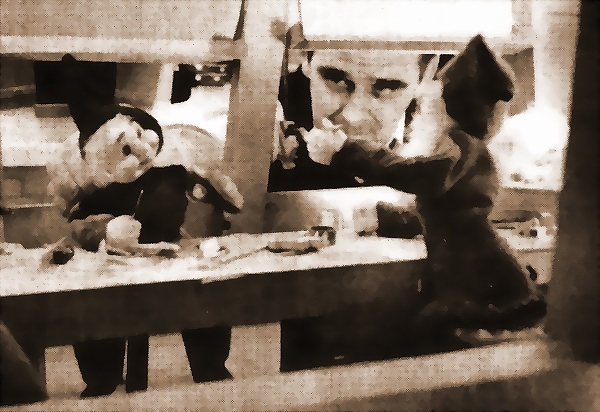 Model Maker Al Brinkworth puts the finishing touches to his charming and intricate Christmas Village. These displays can be seen at Richmond Square until Christmas. Photo Credit: Richmond Review
RICHMOND NEWS- NOVEMBER 21 - 1985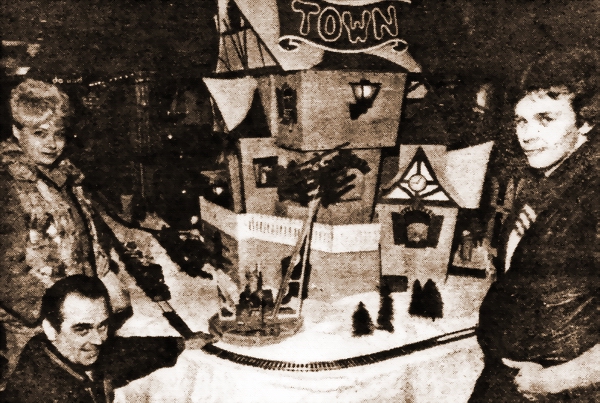 THREE Christmas displays to be featured at Richmond Square Mall are the product of Al Brinkworth and his family (wife Elza and Son Barry). A complete Dickens-like village will be of special interest when it is introduced next week. Mr. Brinkworth operates Brinkworth Model & Design Consultants Ltd. in Richmond. (Don Dutkowski photo)
A "PALYWAG" was a Brinkworth Models creation, in the form of a small elf like creature that we manufactured ourselves. They can be seen above, working in the TOY WORKS, all mechanically operated, and moving continually with hammers and brushes etc, building the toys.
TOY DEPOT, with palywags carefully loading the Santa Sleigh, with Santa standing by, checking his Christmas Eve delivery list. Our palywags, could be found all over our 1985, Richmond Square Christmas display, when all thee of our displays were on show that year.
Our LGB miniature trains, ran from one town center to the other along a 24 foot long, "dog bone" looped railway track. An 8 foot long, double track railway bridge (above), running along the back of the Santa House, allowed the train to run continually.
Christmas Town was the last display that Brinkworth Models made for Richmond Square Mall. Wish we could have continued with the displays, as it was a lot of fun building them. However, we had a good three year run with them, so it was time for a change.